brazilian-architects.com - Profile of Selected Architects
Postado dia 10 de janeiro de 2012 em Notícias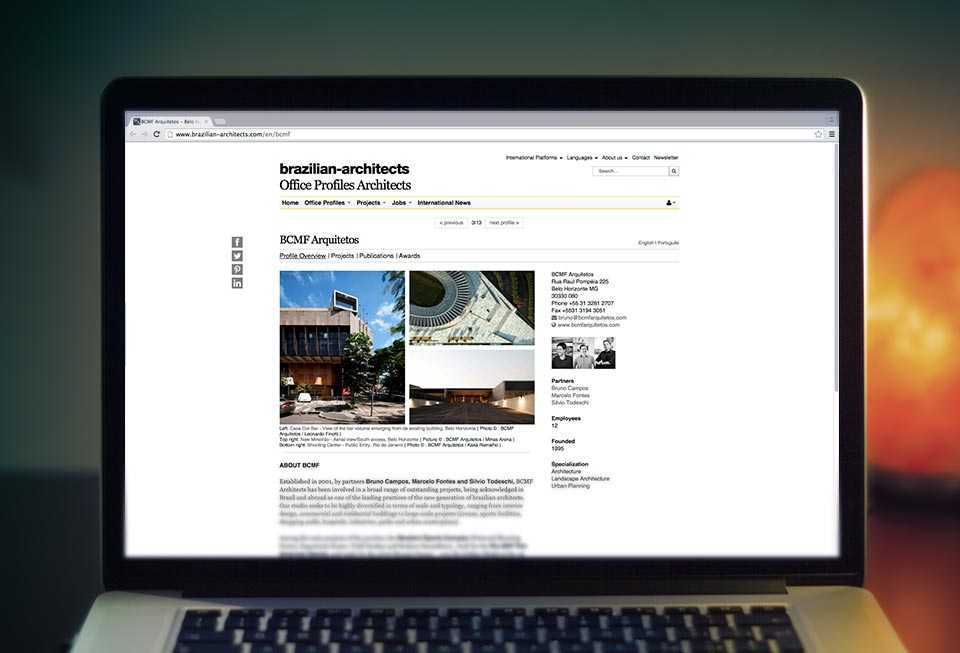 Established in 1995, BCMF Arquitetos (partners Bruno Campos, Marcelo Fontes e Silvio Todeschi) has been involved in a broad range of projects marked by exceptional quality. From concept design through construction documents we strive to maintain rigorous controlof the design process trough comprehensive detailing, complete integration with engineering work, and coordination of all disciplines to minimize conflicts.
In our practice we seek to be highly diversified in terms of scale and typology, ranging from interior design (retail spaces and furniture), residential and comercial buildings (including single-family houses) to large-scale projects (sports facilities, football stadiums, convention center, shopping centers, hospitals, industries, parks, and urban schemes).
Among the main projects of the practice, the "Deodoro Sports Complex" (Central Shooting Sport, Equestrian Center, Field Hockey and Modern Pentathlon)_ designed for the Rio 2007 Pan American Games_ was nominated for "Best work of young author" at the VI IberoAmerican Biennial of Architecture and Urbanism, Lisbon (Bruno Campos, Marcelo Fontes and Silvio Todeschi).  Gold Medal at the First prize IAKS LAC 2010(InternationalAssociation for Sports and Leisure Facilities / Latin American and Caribbean Section) and Special Prize at the IOC / IAKS Award 2011 in Cologne, Germany, the world most important sport architectural prize.
In 2008/2009 BCMF Arquitetos was commissioned by the Brazilian Organizing Committee (COB) to be the lead architectural and landscape designer of 20 venues and facilities for the Rio 2016 candidature, mainly in the clusters of Barra da Tijuca and Deodoro. In 2010 BCMF was commissioned by the consortium "Minas Arena" to be responsible for the execution of Mineirão Stadium in Belo Horizonte, for the 2014 World Cup.
The practice's work has been widely exhibited and published in various publications, national and international, such as Wallpaper Magazine, Sports Pro Magazine, New York Magazine, RIBA Journal, SB (International Magazine for sports, leisure and recreational facilities), Eat Shop Drink (Ed.Taschen), 1000 x Architecture of the Americas (Ed Verlagshaus Braun, Germany), Revista SUMMA (Argentina), Revista PROJETO DESIGN, "Casas_ Oca Arquitetura do Brasil", Ed. Victoria Books, ARKINKA (Peru), "Ainda moderno? Arquitetura brasileira contemporânea" (Lauro Cavalcanti, Ed. Nova Fronteira), Jovens Arquitetos – Brasil (Roberto Segre, Ed.Vianna & Mosley), Europejskie Centrum Solidarnosci (Wyniki konkursu architektonicznego, Gdansk 13 XII 2007), Coney Island: The Parachute Pavilion Competition (Ed. Princeton Architectural Press, NY), European Urbanity (Austria and Slovenia, Ed SpringerWieNewYork).
http://www.brazilian-architects.com/en/bcmf/en/domain:brazilian-architects.com/catId:1/